Ceylon Airways
The national carrier began as Ceylon Airways in 1947.
Air Ceylon
Later the name was changed to Air Ceylon and expanded itís services around the world. Services to London using BOAC Comet 4s were begun in 1962 with DC3s being used on internal routes.
BOAC Comet 4C ~ Katunayaka
Hawker Siddeley HS-748 turbo propellers were introduced in 1964. In 1969, Air Ceylon bought a Trident 1E jet opening up medium-haul routes.

Trident 1E ~ France
In 1972 a DC8-53 was leased from UTA for the London service which was painted in a pastel blue and orange livery. Air Ceylon bought their own DC8-43 from Air Canada in 1977 to replace this aircraft. Air Ceylon also leased a Boeing 720b jet at this time.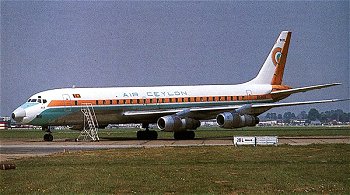 Douglas DC8-43 4R
The airline ceased operations and it's business in 1978.
Air Lanka
Air Lanka began in January 1979 to take over the routes of the old Air Ceylon. Singapore Airlines leased Air Lanka a couple of Boeing 707s which were flown in full Air Lanka colors.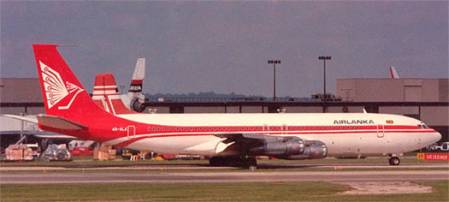 Boeing 707 Photo by Paul Robinson
In the 1980s Tristars were introduced to replace the Boeing 707s with Boeing 737s (used regionally into India). Air Lanka leased Boeing 747-200s occasionally as needed for routes like London-Gatwick although these services were usually flown by Tristar 500s (picture below).
By the mid 1990s the older Tristars were replaced by new Airbus A340s.
Air Lanka fleet comprised of Airbus A340, Tristar 500, Tristar 100, Airbus A320.
Sri Lankan Airlines